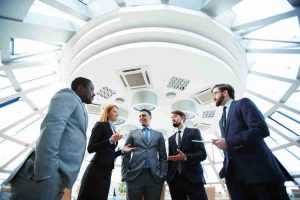 Diversity in the workplace has long since been of paramount importance. Yet we have never before been so keenly aware of the need to create an inclusive culture. With the advancements of social media, movements such as Me Too and Black Lives Matter have raised awareness of the lack of equality across racial and gender divides at an unprecedented level.   These actions have impacted recruitment, retention, company perception and impact to the financial outcomes.    In this article we define three major components:
Diversity Training Defined
Notable Benefits of Diversity Training
Successful Diversity Strategies
Diversity Training Defined
A diversity training program aims to boost participants' awareness about different types of diversity, appreciating differences among co-workers, and provide knowledge and strategies to enhance employees' interpersonal and communication skills to help build a positive work environment.  Training begins with developing a comprehensive framework that will work through the entire organization.  You should be offering diversity education to all levels of staff.  The benefits of diversity programs are evidently clear.    Putting aside the social awareness benefit of a great diversity program, the outcomes significantly impact recruitment, retention, innovation, opportunities for new markets, financial outcomes, employee satisfaction and overall corporate culture.
 Notable Benefits of Diversity Training
Retention and Recruitment Employee Retention Impact
Retention is one of the most concerning terms to companies and organizations today. Ensuring you are truly fostering internal growth and supporting additional efforts to achieve diversity in your workforce…its absolutely essential.    Mentoring, knowledge sharing, cross-department engagement, and team building are the major ingredients to significantly increasing your retention….and you'll be surprised to how it impacts recruitment, just consider how more appealing qualified applicants will be once they understand your corporate inclusivity agendas.
Innovation and Access to New Markets
Empowering a diverse culture can lead to access to untapped markets. Diverse communities can deliver easier access to markets as team members will better understand different cultures and their purchasing behaviors and knowing the company supports diversity will encourage purchasers.
Employee Productivity and Corporate Culture Enhancement
Consistent programming leads to higher employee satisfaction which decreases the need for recruitment, focus on employee growth and over all increasing productivity.    Collectively, a positive and inclusive environment impacts corporate culture, public perception and bottom lines.
Financial Outcomes


Reduction in exhausting and expensive recruitment processes, increased employee productivity and access to markets via a more diverse organization can significantly impact the bottom line and minimize stress in your staff.
Successful Diversity Strategies .
Well Defined Plan for Diversity and Inclusion Training
Your staff members who will be overseeing your diversity programs are going to need a comprehensive plan to follow to maximize the benefit. Providing a strong plan illustrates to all levels of employees the serious emphasis you are placing on inclusion and diversity. 
Recommendation of Programs that Foster Inclusivity

Retention and Recruitment

Mentoring Programs

Knowledge Sharing / Team Building

Cross Division Training

Internal Innovation Pitches


Implementing One to One engagement Tools Ensuring Inclusivity
Technology advancements have greatly provided opportunity to engage our communities.   However, the latest challenge has been ensuring all are participating and engaging.   Hosting zoom calls has been widely popular but fail on inclusivity.   Consider platforms such as SpeedNetworking.com that specialize in structured one to one inclusivity programs and training for organizations of all shapes and sizes.  The benefits are enormous as everyone participates in private one to one engagement based on the matching needs of the client.  This technique ensures participation and is measurable.  Contact us to learn how we have assisted from Fortune 500 to small businesses and organizations with their diversity training. 
Measuring Metrics and Implementing Improvements


Tracking your success is critical. Upon creating determining your goals and implementing an application that can clearly track engagement and outcomes is essential.    Holding managers and other team leaders accountable will elevate the organization as a whole.     Ae we all know, many companies outside of the organization monitor and rank a company's diversity score cards publicly, make sure you are on the top of the list.
Please reach out to one of our team members who can help you implement a comprehensive diversity and inclusion plan.  It's our specialty!    Click Here To Get Started