We are Here to Help
Resources to Help With Your Next Event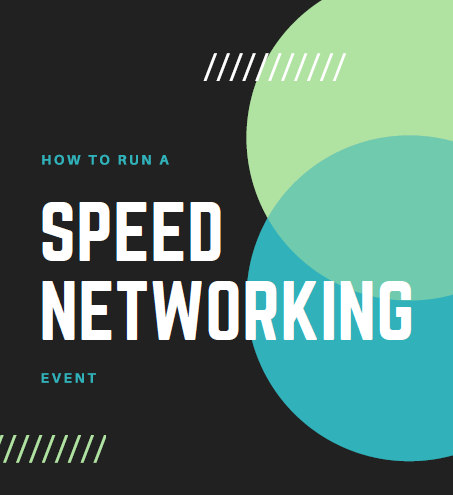 How To Run A Speed Networking Event
How To Run Your Next Speed Networking Event
So, you're ready to host a speed networking event. Great! We put together this guide to help you plan and execute a successful speed networking event. Fill out the form to get your FREE copy today!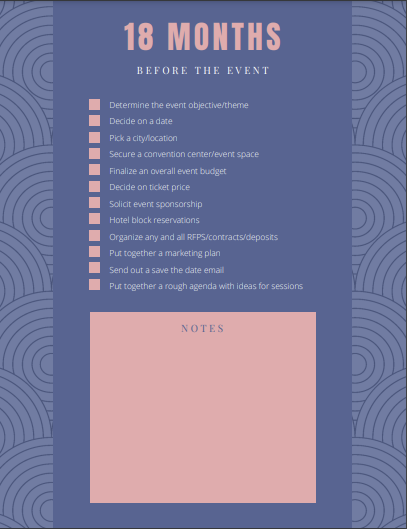 Event Planning Checklist
So, you're ready to host a speed networking event. Great! We put together this checklist to help you plan and execute a successful speed networking event. Fill out the form to get your FREE copy today!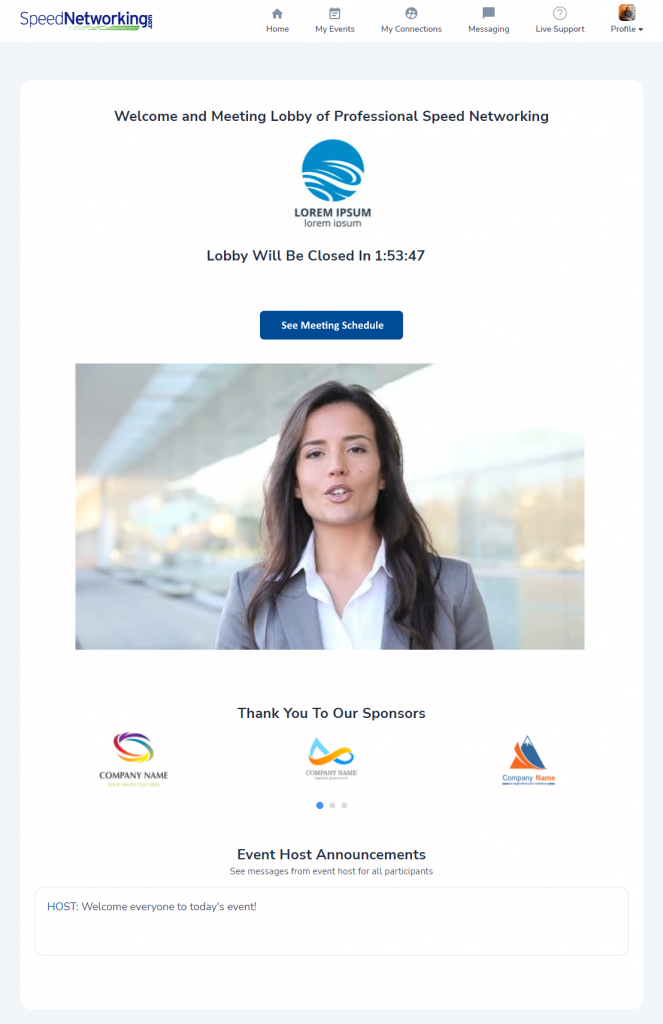 Virtual Event Platform
Virtual events in the business world are here to stay, and it's no surprise why. They allow more people to take part, remove inconveniences around travel and physical location limitations, and in many cases are less expensive to organize and attend than in-person events. But virtual events do still require careful planning and the right platform to make them a success. In this article we'll get into the specifics about virtual event platforms and how they affect virtual and hybrid event planning and the experience of the events themselves.
What Are Virtual Platforms?
Platforms for virtual events are tools that bring functionality to your digital and hybrid gatherings. Originally, these platforms were just a place for a simple video call. But as virtual events have evolved and gotten more complex, so have the virtual events platform options.
These platforms now can help you create a vibrant virtual meeting space where participants can interact, share, and communicate with ease. As hybrid meetings and events become more common, having a platform that can create a seamless connection between in-person and remote attendees is becoming more important too.
What Is a Virtual Networking Platform?
One specific subset of virtual event platforms is a virtual networking platform. Networking, the idea of developing connections with others to develop professional relationships, isn't new – but doing it digitally hasn't been around nearly as long. Because networking is such an important part of in-person meetings that is often lacking from virtual ones, a platform specifically made for networking adds a lot of value. 
A successful networking platform requires even more specialized features and functionality than a platform that will simply host a video presentation and allow for group conversations. Networking requires many small groups to be able to meet, chat, and move on quickly to make the most of attendees' networking time. Ideally, these platforms would also give participants options for who they would like to meet with and what type of connection they are hoping to foster.
At SpeedNetworking.com, we offer a software platform custom-designed for networking. Our proven algorithms make sure your event attendees can make truly targeted and impactful connections – whether they are attending an in-person, virtual, or hybrid event. Our quick, consecutive, one-on-one meetings let participants maximize the benefits of networking in a short, value-packed time span. SpeedNetworking.com makes a valuable addition to your existing event, or can be used to host a standalone speed networking event. Our long experience and deep understanding of event landscapes mean we provide the right tools for your unique requirements. This translates to happier attendees before, during, and after your event .
What Is Virtual Platform Design?
Now that you have a better idea of what virtual events and networking platforms are, let's talk a little more about how the design of these platforms plays a role in user experience. There are so many tools that offer similar features available for hosting virtual and hybrid gatherings – the design is often what sets each of them apart. 
A platform's design includes the visuals present when users open the software, as well as the features that are offered, the user interface, how the branding of the hosting platform appears, and what customization options can be added, among others. These visual and practical design elements have a big effect on users, and choosing a platform that best fits with your company's needs and branding is important.
What Is the Best Platform for an Online Event?
The best virtual event platform for you will depend on your company's needs and what you are trying to achieve in your event. You may already have a video conference platform that worked well for events you hosted in the past. But it may lack important features that allow participants to engage with each other for networking. The good news is, you can always keep the platform that works well, and also incorporate a platform specially designed to facilitate the networking you want to add, like SpeedNetworking.com.
Because networking is so important to building business relationships, your best bet is often to use a platform made just for that purpose. Networking, especially speed networking, where participants are trying to make meaningful connections with several different people in a short time, requires specific tools to work well. General platforms designed to host only events, conferences, or trade shows do not often include the most important elements to host successful networking events. 
How Do You Create a Virtual Event?
You're sold on the idea of a virtual event, and know the basics about platforms for hosting them. Maybe you've already successfully run several but are ready to take them to the next level. At SpeedNetworking.com, we want you to get the most out of your virtual events, so we've put together planning guides for creating and running virtual and speed networking events that can help get you started. 
Here are the most important considerations when you begin planning your virtual event:
Decide on an event objective or theme

Choose the event type

Event logistics
Decide on Event Objective or Theme
Before you do anything else for your digital event, it's important to set a clear objective. You want to have a very definitive vision of what purpose this event is going to serve, who the exact audience is you are trying to reach, and what type of experience you want them to have. 
Is this an event meant to:
Educate clients or partners about the latest advances in a specific field? 

Establish your brand as a thought leader on a particular topic? 

Foster relationships with other businesses by providing them a useful service?

Make new contacts and useful connections for your own staff?
During this phase of setting your event objective, it is important to keep in mind what you hope to achieve with your event. But you also need to consider what factors will make your audience want to attend. After all, attendees to your event are going to be consumers of your product, and offering them something they will find valuable is important. This is especially true if you are asking yourself "How do I host a paid virtual event?" and you are concerned with making sure it will be well attended. 
In a recent study of almost 9,000 event attendees, The International Association of Exhibitions and Events (IAEE) showed the top three drivers for event attendance were: 
92% Education

78% Destination

76% Networking
Since these three elements play such an important role in people deciding to attend your event, you need to include all three as you set your event objective. So when you are thinking about virtual event ideas, make sure to include a:
Strong educational component, like speakers who are thought leaders in the field, panels discussing important innovations, or demonstrations of new technology

Virtual platform that is visually appealing and easy to use, as an appealing destination for attendees

Networking opportunities that are well defined and effectively organized
2. Choose the Event Type
Once you have clearly defined what the purpose of your event is going to be, it's time to think carefully about what type of event can best achieve this. Is this going to be a trade show, exhibition, lecture series, networking event, or a combination? 
Since more than 3/4 of event attendees identify networking as a top driver of their attendance, making sure to feature a strong networking element to your event makes good sense. Because productive 1-on-1 conversations between participants at large or virtual events can be a special challenge, it is worth spending some time specifically thinking about what type of networking opportunities you wish to include.
These might include:
Peer to peer – matching similar attendees to each other

Seller to buyer – connecting people in complementary roles for mutual benefit

Mentor to mentee – pairing more and less experienced participants together

General networking – allowing more spontaneous partnering for a more varied experience
3. Event Logistics
If you are holding an in-person or hybrid event, logistics include things like picking a location, booking the event space, and reserving a hotel block. Digital event logistics include choosing a virtual event platform, customizing the digital space to compliment the event's aims, and deciding how you want to handle things like breakout rooms.
In some ways, virtual and in-person events require very different logistic decisions, but there are many similarities too. For both types of events (and a hybrid of both styles), you will need to: 
Set a date

Create a budget

Decide on ticket price or make attendance free

Ask for sponsorship

Develop a marketing plan

Make a schedule of speakers, sessions, presentations, networking time, etc.

Think about the audio and visual components so everyone can be seen and heard
You can check out our resources page to download the full Conference Planning and Event Checklist documents too for more information. 
How Do I Choose a Virtual Event Platform?
With all of the elements involved in hosting a successful virtual or hybrid event, it's important to choose a platform that will help you achieve your vision as easily as possible. The last thing you want is to put in all the work planning an event and have your platform limit you from carrying it all out that way you envisioned it. 
So what platform will you use to hold the virtual part of your event? It depends a lot on both the size of the event and what you want the event to be like. 
For small events (under 50 people) virtual platform features and capabilities can be less important because the small size makes everything more manageable. The basics like Zoom and Google Meet may well offer all the functionality you need. 
For larger events, though, additional features can be a nice to have, or a need to have, depending on your goals. Here are some features available in digital event platforms you should consider when choosing the best virtual event platforms for your 2022 (or beyond) event:
Ticketing and registration
Integration with other platforms
Automatic speaker recording
Analytics of attendees event behavior
White label event customization
Depending on your budget, you may choose a digital platform that includes a few or all of these features. There is a wide range of virtual event platform pricing. Some platforms offer free options while others provide much more value and subsequently cost more to use. The ultimate answer to which platform you should choose is the one that fits your needs the best.
What Are the Advantages of a Virtual Platform like SpeedNetworking.com?
It's a competitive world out there, and if you want attendees to come to your virtual events and leave happy and ready for more, you need a customized solution for networking. A fundamental shift in meetings and events has happened so that now technology has become the venue, even with in-person and hybrid events. No longer do event participants want to leave networking up to a chance meeting with the perfect contact. 
SpeedNetworking.com provides everything you need to perfectly pair attendees for one-on-one meetings that foster real, useful connection. We offer a simple user interface backed by our powerful SaaS platform to give your event the perfect blend of ease of use with high tech benefits. 
Contact us today so you can start planning your next successful networking event!