What Are the Advantages of Virtual Events?
Ever since the global COVID-19 pandemic, the world has shifted to a more virtual approach to everyday life. Groceries are being ordered online. Instead of snow days, kids are now experiencing remote learning. The corporate world has shifted from in-person conference room meetings to online conference calls. Even happy hours take place from the comfort of home as opposed to a local bar. 
While virtual event technology has been around for several years, the "new normal" leverages it far more heavily. And for good reason. There are multiple benefits of virtual events. In the following blog, we are going to look at a few of them.     
What Is a Virtual Event?
In plain terms, a virtual event is an online gathering that involves people getting together and interacting within a virtual environment. There is no single physical location where the gathering is held. Virtual event examples can include things like:
Speed Networking-

Where people network in fashion akin to speed dating. Quick, consecutive one-on-one conversations in a low pressure and intentional environment allow participants to expand their network and form meaningful connections in a matter of minutes. 
Guest Speaker-

When an organization wants to bring in an outside speaker or presenter. These events can motivate a workforce, spark intellectual curiosity, inspire change, and educate employees or a community on a variety of topics. 

Team Building-

How employees continue to improve interpersonal relationships with coworkers. Team building activities can improve group morale, communication, and even productivity. 
The list of virtual events is practically endless. Even so, you may be wondering why do any of these events in a virtual space when you could also do them in person? Great point. Let's take a look at why virtual events are better than in-person events in our next section. 
What Are the Advantages of Virtual Events?
There are several advantages to virtual events. The benefits of virtual events during COVID-19 were perhaps more glaringly obvious in the sense that physical distancing, quarantining, and reducing travel were all at the top of everyone's mind. However, you don't have to dig too much deeper to understand virtual events' advantages, and the disadvantages of in-person gatherings. That's not to say that there are no advantages to in-person events, just that this blog focuses on the pros of virtual events. 
Travel
With virtual events, there is no travel required. For participants, that means you can attend the event from the comfort of your personal space while also saving time and money. You no longer have to book flights, reserve hotel rooms, or block off big chunks of time to get from point A to point B. 
Lower Cost 
From the perspective of an event host, virtual events are far more inexpensive than hosting something in-person. As opposed to:
reserving an event center

organizing different conference room schedules and logistics

and providing ample refreshments for all attendees
you can simply: 
create a virtual schedule

pick a virtual platform

and send out a link to everyone
Not only does that reduce your costs, but it also considerably reduces the number of moving parts. This makes virtual events easier to plan and execute as well.
Increased Participation and Analytics
With in-person events, you might be limited to a certain capacity for breakout sessions or workshops. That challenge can easily be overcome with virtual events since you are not limited by physical space. Plus, similar to
the lack of travel planning, more people can join a virtual event because it doesn't require as much time or planning ahead. Additionally with virtual events, people can attend from all over the world.
In addition to increasing participation, with virtual events you can also access analytics in a jiffy. You can see how many people attended each session, how long they stayed, how active they were, and more. This can help you make decisions about how to plan or adjust future events to be even better. 
What Are the Advantages of a Virtual Platform Like SpeedNetworking.com?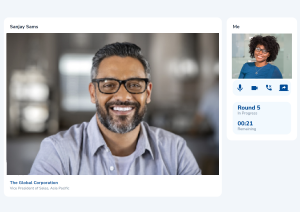 At SpeedNetworking.com, we have been in the connection business for a while. We know networking can take place in all sorts of ways. That's why we offer virtual, in-person, and hybrid options through our SaaS virtual events platform. 
We use proven algorithms to ensure each event attendee can network with deliberate and meaningful connections through a series of one-on-one meetings. With our wealth of experience and our passion for what we do, we ensure each event's specific needs are met and that all parties walk away with a positive experience. 
Check out some of our case studies to learn exactly what we have to offer, or go through a live demo today! If you're ready to get started, contact us!