During our sales processes, we discuss the reasons why organizations are rapidly turning to virtual (and face to face) matchmaking solutions.  Below is a short list of some of the reasons our clients have turned to virtual matchmaking solutions.  These clients include Fortune 500 corporations, trade associations and conferences, colleges and universities, chambers of commerce, professional networking organizations and many others seeking to engage people for a variety of purposes.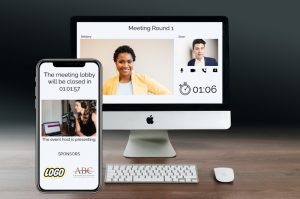 It's not Zoom Rooms or Similar!


Virtual matchmaking solutions are much more comprehensive and offer strategic matching supported by a well-orchestrated process to take attendees through a series of one-to-one private engagement meetings based on pre-defined matching criteria. These solutions save tremendous time on trying to match people up and dealing with the myriad of headaches that can be endured trying to match people together and then place them in a private virtual room.  

Solves Inclusion and Diversity Management


Diversity in the workplace has long since been of paramount importance. Putting aside the social awareness benefit of a great diversity program, the outcomes significantly impact recruitment, retention, innovation, opportunities for new markets, financial outcomes, employee satisfaction and overall corporate culture.

Diversifies Attendee Networking Options


Networking programs are like a financial portfolio; you don't put all your eggs in one basket and financial professionals strongly encourage diversification. Not all networking programs fit the needs of individuals.  Diversify networking programs ensures opportunities for all types of attendees.  Programs can include buyer/seller, mentoring, leadership training, team building, knowledge sharing, cross department collaboration and much more!

Reduce Administrate Time & Stress


Today's solutions, such as SpeedNetworking.com, significantly reduce organizers administrative time and reduces stress as the tools today assist with set up, marketing, matching and the engagement of people is an innovative, engaging, and meaningful method.

Improve Meeting Quality


Utilizing match making platforms significantly increases the chances that people meet the right people and helps ensures new smart connections. Additionally, SpeedNetworking.com allows organizers greater control through customization to ensure the best possible matching outcomes. 

Increase Attendee Engagement


Attendees are busy people. When they know there is a solution to help ensure they meet the right people, participation significantly increases as this type of platform provides a greater opportunity of meeting the right people, as such, organizations have seen an increases in participation. 

Boost Recruitment / Retention


Connecting attendees to the right people shows them the organization takes great interest in ensuring matching with the right people is important. In return for the organization's efforts, attendees show their appreciation in turn by increased loyalty and retaining their relationship and spreading the good word about the organization on to others.  

Create New Revenue / Sponsorship Opportunities
For organizations seeking to increase revenue opportunities, platforms, such as SpeedNetworking.com, offer multiple strategic sponsorship opportunities to maximize their sponsorship dollars and increase the chance for the best ROI.
Increase Attendee & Organization ROI


For the organizers, reduced administrative, production, marketing and sponsorship opportunities supported by increase attendee participation and satisfaction leads to an elevated ROI. Furthermore, with quality reporting, the ROI can be validated to share with other staff and senior leadership.

Obtain Real Time & Comprehensive Valuable Data and Analyzing Outcomes


Identifying a platform that provides smart reporting helps organizers understand the matching needs of their attendees. After reviewing all the data and analytics post an event, organizers can make smarter decisions on how to plan future events as they identify the very specific needs of their attendees.  Additionally, working with a platform that not only delivers the solution but works directly with the organizer to make suggestions for future events….is a no brainer…check out SpeedNetworking.com (we had to end with a plug!!!!)
Interested in learning more about SpeedNetworking.com, we'd love to connect with your.  Please follow "Click Here" to get started to learn how we can help your organization.