EVENT HOST INSTRUCTIONS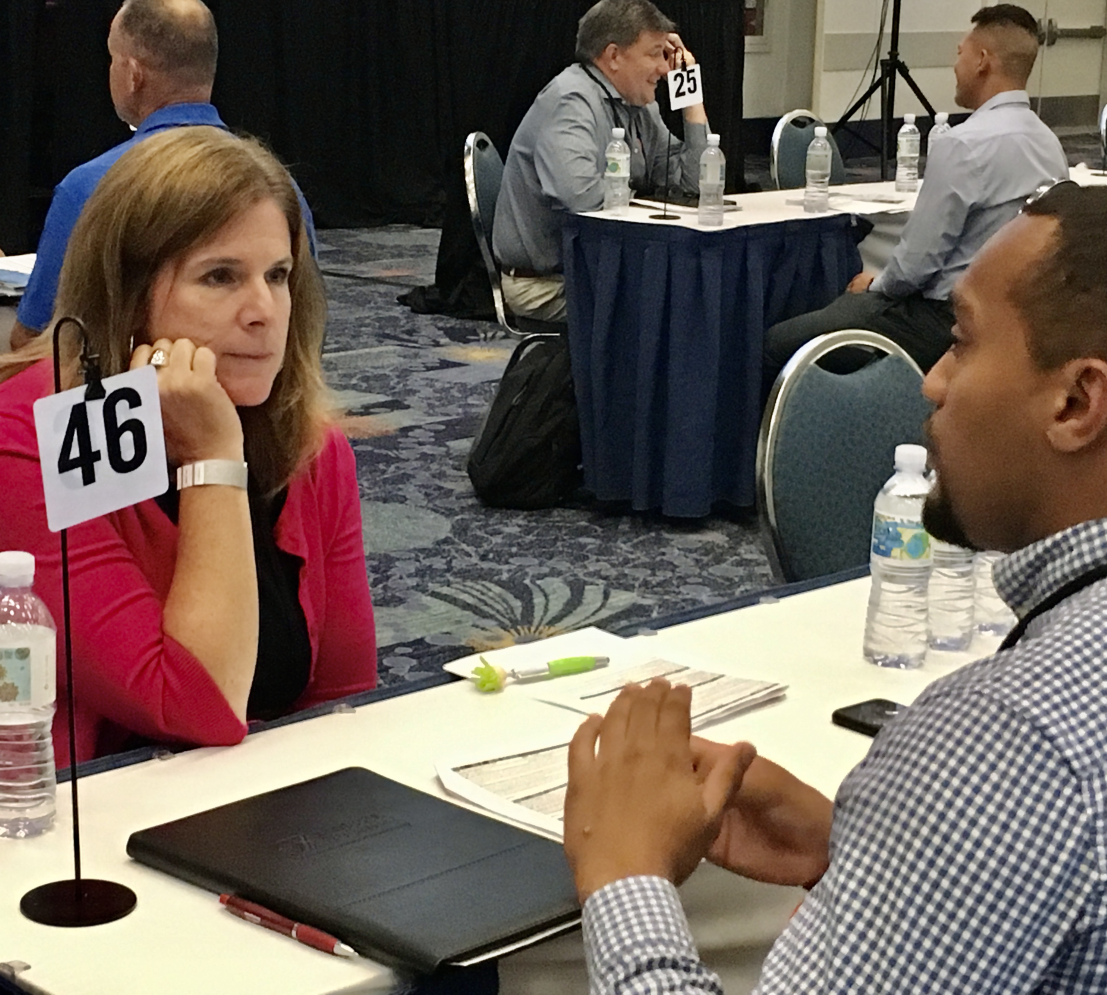 STEP 1 – PRE PLANNING
PLANNING /LOGISTICS

Work with your event location to ensure the following:

Room Layout

Create a room / table Layout for the networking and provide to the venue.

If available, use Microsoft Visio or similar to create an event layout illustrating where all table assignments are located.

Check in layout for when participants arrive

Beverage management (water is a must at every event)

Audio / Visual

Most clients need just a podium and a microphone

Support

Identify 1 team member to support on-site registration and check in for every 50 attendees. These support individuals should also be available during the event to assist participants.

Registration Management: Determine the following

When will registration open

When will registration will close

When must participants "check in" by to ensure a schedule is created for them. Speak with your SpeedNetworking.com consultant for questions.

MATERIALS TO BE PRINTED (if applicable)

"Welcome Sheet"

Cover sheet with basic instructions for the event (as supplied by SpeedNetworking.com)

Schedules – provided by SpeedNetworking.com via PDF

Paper to print schedules

Alternatively, participants may log into SpeedNetworking.com and navigate to their event and click on "See Meeting Schedule" once this has populated (as based on the organizers set up in SpeedNetworking.com)

Table Card Assignments

Please elect to print table card assignments on the following documents or as you see fit:

Avery Medium Tent Cards

8 ½" x 11" paper and fold in half and create tent cards

18" Table top place card holders. Cards with numbers should be ordered separately.

TIMING & PRINTING

Depending on the number of schedules plan on 60-90 minutes to print.

EVENT SUPPORT ITEMS

TimeR

Most smart phones have a timer, please check your device

Any additional marketing materials that you intend to provide
STEP 2 – ONSITE PREPARATION AND EVENT REGISTRATION
ONSITE EVENT SET UP

Plan on arriving at the venue 60 minutes prior to the beginning of registration.

Check in with venue operator to ensure everything is in order

Check lay out of room

At least two skirted – six foot tables should be utilized for a registration table. If participation is larger than 100 you may need more tables

Tables should be in rows with seats on both sides of table for the speed networking portion of the event.

Ideal set up is a 6' x 18" table with 4 chairs (two per side facing each other).

Podium and microphone (check to make sure they are on)

Water stations are available in the room.

Place seat assignment indicators in numerical order in middle of table in between each facing seat. 

Place each personalized schedule in alphabetically order on the registration table.  You should be able to create columns of ten schedules per column.  Space each schedule so that you can see the name of the participant (this helps registration goes real easy).

BEGIN REGISTRATION

Ask participants to identify themselves by their last names and then hand them their personalized schedule with name tag if applicable. 

Inform each registrant that additional instructions regarding the speed networking event will be provided shortly and, in the meantime, to meet and mingle, during the brief registration period and to hold on to their meeting schedule packets.

Alternatively, if time is limited ask participants to immediately report to their first seat assignment. 

Ushers should be available to help escort participants to their first seat assignments.
STEP 3 – TROUBLESHOOTING AND "WHAT IFS"
Did not register

If someone comes to the door and they did not register, explain that this event required pre-registration because of the nature of the event. However, you will place them on the wait list and distribute a schedule if there are no-shows or you have extra schedules. Alternative idea is to place extra seats at the end of each table row and allow them to be a permanent participants at the same location.

Registered but no meeting schedule packet created

While this is seldom the case on occasion people register under different names or registered for a different event by accident. Ask the participant if they registered or paid under a different name.  Please ask the participant for their event registration verification email.  If no schedule is found inform them that we will redistribute a schedule of someone that does not show to the event. 

Someone does not show

It's common for about 5-10% of the attendees not to show to the event. This is often a result of a last-minute engagement that they did not predict.  In this case, we wait until the first round to begin pulling the schedules off the registration desk and we can then redistribute them to participants who did not register.  In the event you redistribute a schedule simply inform the participant that while this packet was created by someone else that they can still use it and begin networking in the speed networking event. 

Not happy with schedule

While the software does its best to pair people based on their preferences it can't always predict what people's objectives are. In addition, the match making is based off the pool of participants and there are cases in which someone wants to meet someone from a particular category but no one registered from that category and they system moves on to the next preference.  Sometimes people don't create their profiles and they are automatically defaulted to all neutrals and the system then randomly pairs them up with other participants. 

At this time, it is not possible to re-run the schedules. The possible solutions are to; 1) Ask the participant who they are trying to meet and the host can possibly make some introductions 2) If there is a no show, you can ask them if they would like a different schedule

They have a bye(s) or a "no meet" on their schedules

In almost all events there are some participants that will have "byes" on their schedule. This is a result of 1) uneven number of participants 2) not spanning out their preferences during registration 3) creating all neutral preferences during registration.

If they have a bye, inform them that there will be a designated area for people with byes so that they can continue meeting new people. Alternatively, the moderator and usher can pair people up.

If they have to leave early

Not a problem, they can follow up with those that they missed meeting.

They want to distribute material

While it is not permissible to place literature on each seat, the participant can hand out information to each person they meet.
STEP 4 – MODERATING THE EVENT
As the moderator it is critical to maintain control of the event and set the tone of the event. Always keep an eye on the clock and keep all comments as short as possible.  Try and limit the instructions to under 10 minutes. 

Kicking Off the Event

Five minutes before the start of the event, leverage your voice, dim the lights, get everyone's attention and make an announcement that the event will begin in five minutes and to please wrap up what they are doing and have a volunteer or two begin to assist individuals with their first seat assignment according to their personalized schedule.

When the participants have found their location begin your next few minutes of instructions and any other announcements as you now have a captured audience. Don't be afraid to be a bit aggressive on managing the participants.

The Moderator Objective and Speed Networking Lingo

As the moderator your job is to keep the event going and be the official time keeper. As a suggestion, inform people half way through the round that they are half way by stating "HALF WAY, HALF WAY….YOU'RE HALF WAY THROUGH THE ROUND".  Then when 30 seconds are left, state, "WRAP IT UP, WRAP IT UP" this way they know to exchange greetings and prepare for the next rotation.  Finally, state "ROTATE, ROTATE, ROTATE" and this notifies everyone to begin moving to their next station.  During the rotate announcement make sure it is loud enough so that everyone hears you and use a commanding voice!.  In addition, we recommend walking through the room and assisting individuals to their next assignment and breaking up a few groups who continue meeting. 

Key Topics to Discuss During Instructions

Review Objective of Event

Explain that the event is a speed networking event and the participants each have 5 minutes (or other time as predetermined) to meet the person across from them. The objective is to learn about the other persons business objectives and to see if there is synergy between the two.  If there is, great, and you can swap information and meet up at a later time.  If not, no worries, participants are not expected to make connections with everyone.  On every packet each person had a chance to create a starter question and this is a great way to kick off a new conversation.  In addition, each packet has an area to create notes on the people they meet.

The software is a program that attempts to maximize the opportunity with matching people based on their mutual interest of meeting one another.

Review Schedule and illustrate how to locate seat assignments

Review time for each round and commands stated to help keep the event flowing

Importance of the rotation as someone else will most likely be taking your current seat

No Show's

In the event of a no show, the moderator and users will work quickly to find another partner for you. Please ask participants to raise their hands after 15 seconds have passed at the beginning of the round to let the ushers know they need a new partner.

Not the Perfect Partner

Not all the matches will be exact targets. However, the key to success is asking good questions and learning about your partners connections. 

General Overview of SpeedNetworking

SpeedNetworking has been a national phenomenon and groups have adapted to this new style of networking and have assisted their members with; business opportunities, new careers, peer to peer networking, new partnerships and much more.

General Talking Points Prior to Kicking Off The Event

These events are about initiating new relationships

People attend for a variety of objectives (Brand their company, build sales pipelines, seeking new synergies or alliances, career transition etc…). Be respectful of people's objectives. 

Some recommendations for the following

Sales – Don't push too much marketing materials

Career transition – Don't push your resume, someone will ask if interested to assist.

General – Don't overpromise and under deliver

Participants will experience meeting between 6-10 new business professionals. This is a great time to explore learning each other's objectives and to determine if there are any synergies or reasons why you should meet again after this event. 

General rule of thumb- 80% of the people you meet won't be the right person; however, 80% of the people you meet will know someone that can help you reach your objective.

How to make speed networking events effective

Listen to your partner

Ask 2-3 good questions about your partner's objectives

Don't over promise on a response

Only provide additional information if your partners requests it.

Take good notes

Be respectful of the short period of time and give your partner an opportunity to speak.

Follow up and deliver on what you might have discussed

It's okay to determine that there's no need to meet again! Don't feel obligated to tell everyone…"Let's get together again"…unless you mean it. 

DON'T SPAM – Don't send a blanket email to those you just met selling a service, it's a guaranteed turnoff.

Overall

Keep the event moving and keep track of the rounds

Make sure water is readily available for the participants, they will get thirsty!

If more than 20% of the participants don't show, don't stress….just make sure you keep matching people up…remember 80% are still there!

Have Fun!