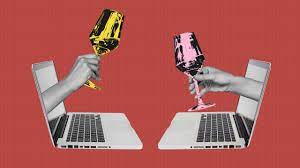 Sometimes virtual events can feel the same — you rock up to a video conferencing call and people talk about their business, what they do, and how you can help each other out. Give your event guests something to rave about by introducing one of these fun virtual networking event ideas.
Invite a VIP speaker
At most networking events you'll get to hear a little from everyone and discover what they do. Transform your networking event into a miniature seminar by adding a short keynote from an industry expert or thought leader.
Think of this as a networking event and webinar hybrid where your guests get the opportunity to network with not only each other, but an industry expert too. It's an opportunity to take a mini deep dive into a professional's career journey or the company they run or represent, and it gives attendees a look behind the scenes at their success. Use this keynote to kick off your networking session and give everyone plenty to think about as they get to know others at your live event.
Take a mini skills class together
There's nothing like a shared learning activity to build new connections with the people around you. It gives everyone a shared talking point and is a great way for less confident members of the group to get involved.
At your next networking event, bring in an expert to host a mini skills class for a small group. This could be something creative like a seasonal craft activity, or it could be food-and-drink themed like a mixology or cookie decorating class. You could also keep it work-related and host a lunch and learn based around soft skills like communication, leadership, or sales. Not only does this get people talking, they also get to learn something new in a fun way.
Host a virtual happy hour
If making cocktails isn't your thing but you enjoy a good drink — alcoholic or not — try a virtual happy hour instead. Recreate that face-to-face bar or lounge experience in an online space by getting together for casual conversations and networking over drinks.
Instead of sending drink kits to your guests by mail or asking them to DIY their own, use virtual cards. With a virtual card, guests can use the balance to order drinks from their favorite local bar, restaurant, or coffee shop. It's a small but fun way to create a hybrid event experience for your guests.
Try speed networking with a personal twist
Most people are familiar with the idea of speed networking. You have a few minutes with each guest to introduce yourselves and talk about what you do. Put a fun twist on your speed networking event by making it more about the person and less about their role.
Introduce prompts that encourage people to share their dreams, talk about their personal highlights, and tell others what they get up to on the weekend. Building your professional network isn't just about connecting with the right name or face. It's also about finding people you get on with personally — whether they have similar interests or a different outlook on life entirely. This twist on speed networking helps people do that faster. Don't hesitate to check out www.speednetworking.com
Theme your event around a hobby or interest
A lot of virtual networking opportunities are either centered on one industry or open to all but with restrictions on how many people can represent one sector. Take a slightly different approach to networking and theme your event around an interest, hobby, or passion instead.
Invite people to join you for a business-focused networking event where they can learn something new and make connections with like-minded individuals. Gather outdoor sports enthusiasts, avid gamers, foodies, or people who are passionate about mindfulness for a themed meetup. This shared interest means that not only can potential business relationships develop, but personal ones too, which could enhance not just someone's work life but their social time.